When it comes to calculating the ROI of envelope printing, there are typically two avenues you can go down: data-driven number crunching and taking a hard look at the improvements your business will experience.
Calculating the ROI of Envelope Printing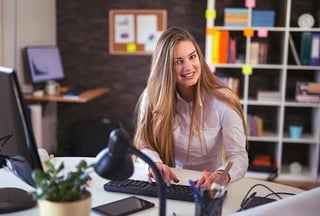 When you're looking at sheer numbers, we've made comparing your current costs and profits to what you can expect with the iJetColor Press profitable with our profit predictor. All the computing is done for you, all you need to do is enter the specifics of your current business.
As our current users know, the iJetColor Press has a costing tool inside the machine that tells you how expensive each run will be. When you submit the job, it automatically calculates your ink cost per envelope - in most business applications, you're looking at fractions of a penny per piece.
Finding ROI in Every Corner of Your Business
It's important to remember that the ROI business experiences don't solely show up on a spreadsheet. When you're saving time switching between short-run print jobs because you have a more efficient envelope printing system, you're collecting ROI.
When any of your employees can be trained to operate the envelope press, you don't need to take time off when your pressman needs a day off. When you can cut your envelope order turn time from 1-2 weeks to 1-2 days, you're experiencing ROI.
When you can calculate job costs upfront and manage your envelope printing in-house, you're seeing ROI. Basically, when you can provide a greater quality in less time and for less expense, you're experiencing ROI.
Envelope Printing Profit Predictor
You know as well as I do that the value of an investment shows up in more places than on a spreadsheet. The spreadsheet is important, don't get me wrong, but it's also not the only place you should look.
Contact one of our reps if you'd like to talk about how the iJetColor Press can benefit your business. Access our profit predictor by clicking below if you're interested in calculating the ROI you can expect with the iJectColor Press.