We regularly hear this question from high volume printers: Should I get multiple iJetColor benchtop systems or an iJetColor Pro? It's true the two options can ultimately handle equal volumes, so which option is the right solution for your print shop? There are a few things to consider.
Labor
Do you intend to have a dedicated operator for envelopes, or will a variety of staff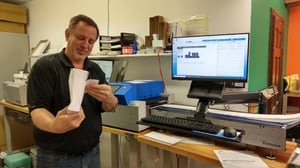 members float around to help produce envelopes? Because of the increased capabilities of the iJetColor Pro, print setup and operation requires a trained operator, whereas operation of the iJetColor Classic or NXT—whose feed setup has fewer steps and operation requires only a click of a mouse —is accessible for any staff member (even the boss!).
WORKFLOW
Having several machines allows you to organize your workflow to ouput multiple jobs at a time. Alternatively, a single, high-speed press is effective for handling high-volume output in batches. The proper solution will depend on your workflow preference and your unique job demands.
dESIGN
Output speed is not the only difference in the design of the Classic/NXT and Pro. With the iJetColor Pro, printers gain an extra 1 ½ - 2 1/2 inches in feed width, can print on media as thick as .5", and can utilize the vacuum feeder for unique applications like paper bags and other packaging materials. Plus, consider floor space as the footprints vary between the benchtop units and the light-industrial Pro.
Multiple iJetColor benchtops can provide similar output capability as the iJetColor Pro, but the solutions will vary in experience depending on your labor availability, workflow preferences and demands, and their basic product design. Reach out if we can help you further explore which solution will be best for your print operation.