At Printware, we are here for our customers 24/7. Whether you're having a technical hiccup or just want to utilize some down-time to do a little spring cleaning on your iJetColor machine, we have technical support for you!
Here are the variety of ways we support you remotely:
LIVE Support
Having a technical problem? Call our support team at 800 456-1400 ext 2 from 7:30-4:30 CST. If you have a Support Contract with us, we have 24/7 remote support available through the iJetColor technical team who are available by phone or e-mail. Our technicians utilize various tools to get you up-and-running like texting, facetime, and even zoom!
online Support
If your print shop is a little quieter these days due to COVID-19, now is a great time to become an expert operator! You can learn how to troubleshoot and maintain the machine yourself with our online support tools*:
iJetColor Support Wizard has videos and technical bulletins to help you pinpoint the problem you're having and solve it.
Maintenance Tips - Refresh your knowledge on how to keep your iJetColor operating at peak performance with our maintenance tips.
Online training - You can also go through our online training to become an iJetColor expert operator.
Check out this quick video from our Training Support Manager, Brad Utpadel, about some of the support tools available in the iJetColorWizard: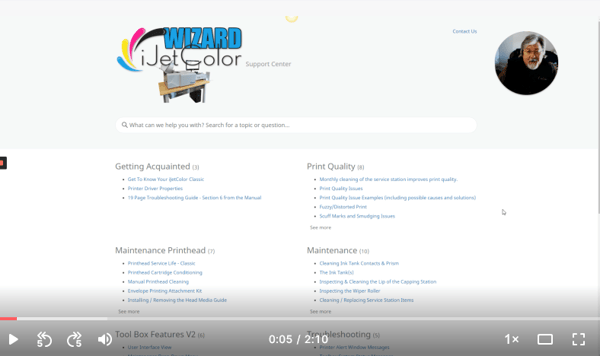 We find this is the best way to fulfill our mission of delighting customers with profitable print solutions like no one else in the world--whether it's through a quick phone call or thorough online resources!
*iJetColor online training tools are available to customers with a support contract. Learn more here.