When businesses choose the iJetColor Press, they're typically replacing an older, toner-based system, replacing a press, looking to increase their services and capabilities, or wanting to become more efficient without increasing overhead.
You may be facing one, some, or all of the reasons listed above, and searching for a solution has brought you here. So, I'll be covering a few of the differences customers experience when they switch to using the iJetColor Press to run their envelope print jobs.
How Do You Compare Printers?
Employee Time and Effort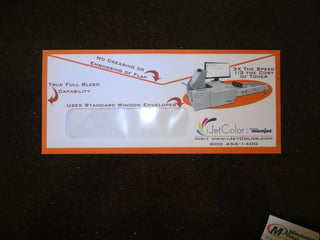 Traditionally, the quality of an envelope run has been closely tied to the effort and attentiveness of the employee overseeing the run. When customers first come to us, they're accustomed to paying an employee to literally stand over print jobs and ensure quality, consistency, and functionality.
The iJetColor Press prints envelope runs that require minimal supervision, and employees can be trained to run envelope print jobs after a small amount of on-line training.
Cost Efficiency
The bottom line? The iJetColor Press is inexpensive to run. It has lower product costs and operating costs than any alternative currently on the market. When you combine that with its speed, efficiency, and cost calculation abilities, you're looking at a business asset that will grow your profit margins.
COLOR CAPABILITIES
One of the biggest differentiators the iJetColor Press brings is its true, full-bleed color capabilities. This feature ensures your design prints all the way to the edge of the stock you're using. Full-bleed means the color prints across all edges of each envelope without standard borders, meaning the ink will not stop short.