When compared to other short run, full color envelope printers, the iJetColor printer is the leading product on today's market. It prints at high speeds, requires very little setup or maintenance, and has been shown to significantly grow profit margins for our customers. Here are some of the ways this inkjet envelope printer rises above the competition and helps you better serve your customers.
Variable Data Printing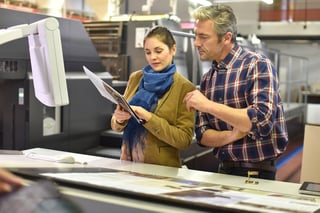 With our easy-to-use RIP and Workflow 4.0, you can easily recall and queue up short run, full color envelope print jobs with a few clicks of a button. That makes serving repeat customers a breeze.
Color Matrix
With the iJetColor printer's color match capabilities, you can match with 16.8 million available colors. This allows you to seamlessly match the colors of your customer's branded materials. This helps them to keep their branding consistent across all printed materials.
Four-Edge Bleed
Our inkjet envelope printer prints across all four sides of an envelope, with a print area up to 8 1/2" x 17". This capability ensures that your customers' envelopes can have full, rich color that doesn't stop short of the edges of their envelopes.
Top Load Friction Feeder
Unlike other short run, full color envelope printers on the market, the iJetColor printer has a built-in, top load friction feeder that lets gravity do the work when it comes to running envelopes. This design efficiency allows the iJetColor printer to achieve faster speeds than the competition, and it drastically reduces the chance for feed problems.


In summary, the iJetColor printer has more capabilities than its competitors, and it delivers more profitable short run print jobs, too. This, combined with the device's low total cost of ownership, make it an excellent choice for print businesses of any size to grow their profits and serve their customers.