One of the biggest hurdles you need to overcome in order to increase the ROI of your direct mail campaigns is standing out from the crowd. When someone receives a pile of letters and postcards in the mail, one of the first things they do is filter through what they need to look at and what they can toss out.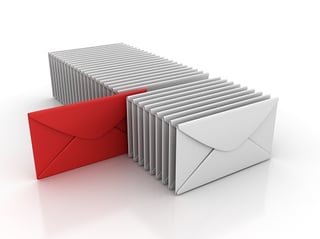 By utilizing the full capabilities of inkjet printing, powered by Memjet and perfected by Printware, you can give your direct mailers a better chance of getting noticed.
And, at the end of the post, you can access a free webinar with even more tips, details, and strategies for taking your business printing to the next level.
INKJET DIGITAL PRINTING AND DIRECT MAIL
Today's customers are savvy, and it's easy for them to glance over plain, generic-looking mailers without a second thought. But, through customization, your mailers can quickly and easily stand out.
Design Customization helps Maximize Revenue
Research shows that 69 percent of consumers are more likely to open mail with color text and graphics when compared to a plain white envelope. By including color, imagery, and engaging text on direct mail pieces, you can ensure your mailers stand out while increasing your response rate.
By including additional personalized details through variable data printing, you can further increase consumer engagement and response rate. Variable data printing makes it possible to incorporate mass customization into your short-run envelope print jobs.
Make Your Direct Mail Stand out with Memjet
One of the biggest reasons marketers opt out of full-color envelope printing is the cost increase that typically comes along with it. Luckily, recent developments in print and printhead technology have made it possible to print custom designed full-color envelopes at significantly lower costs.
The Memjet printhead is an innovation in printhead technology that makes it possible to print short runs of full-color, full-bleed envelopes for mere pennies. When you combine the decreased costs of full-color envelope printing with the importance of standing out in the direct mail world, it just makes sense to look into printer and printhead technology that makes both possible.


While there's no spam filter for a physical inbox, people have gotten very good at filtering what is and isn't worthy of their attention when they check the mail. Incorporating the tips outlined above, along with the strategies discussed in the Webinar Beyond the #10 Envelope, you can increase the ROI of your direct mail campaigns.