Researching a new piece of printing equipment can quickly become a headache. If everyone says their machine is the best, how do you know who's right? Instead of trying to figure out what's the best overall, focus on what would be best for your business. These points will help:
5 Qualities You Want in an Envelope Printer
Here are the top five things you want to look into before deciding to purchase an envelope printer.
1. Features and Capabilities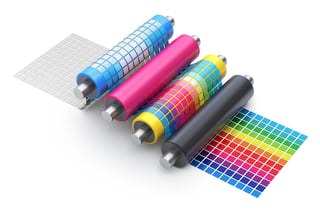 First, you want to be sure that the features and capabilities an envelope printer has are the ones that will provide the most benefit for your business.
Whether you're deciding between an inkjet printer and a toner-based model or you have specific needs for color capabilities and print speed, know what you want from an envelope printer.
2. Does Everything You Need Come with It?
Be wary of an envelope printer that requires you to buy a bunch of "extras" before you get started. It can be a big waste of time and energy to patch together your own envelope printing system, especially when there are all-in-one, complete solutions that are bundled together and ready for use after nothing more than a quick setup.
3. Ease of Use
With the right equipment, the days of needing highly-qualified and trained employees overseeing your short-run envelope printing are over. Because of today's technological advancements, envelope printers and their technology can be simple and easy to use - so much so that any employee can run it.
4. Material Costs
For some print devices, the cost of toner and special envelopes can quickly drive up costs and eat away at your profit margins – especially when you're planning to print colorful, full-bleed envelopes. Before you decide which envelope printer is right for your business, take a hard look at the cost of toner and other consumables.
5. Post-Sale Customer Service
It's not difficult to find a company that treats you well when they're trying to get you to buy their product, but what about after you've made your purchase? An envelope printer is a purchase that's meant to last for multiple years. Over that period of time, you want to be sure your customer service needs will be met with the enthusiasm and urgency they deserve.