The iJetColor family began with the first high-speed, low-cost digital inkjet envelope press—the iJetColor Classic. And for six years, printers from two-man shops to five-location operations utilized this reliable, durable equipment for printing millions of full-color envelopes.
As the digital revolution permeated the print industry, printers began asking for a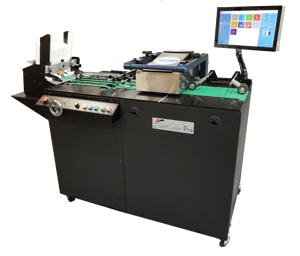 different envelope solution—a digital solution for short-run work that would handle not tens of thousands, but hundreds of thousands or even millions of envelopes per month.
So, we took the industry-leading inkjet technology, paired it with a reliable vacuum belt, and developed a new operating system to deliver short-run envelopes at speeds of over 7,120/hr at costs as low as 3/10s of a penny. We call her the iJetColor Pro.
The iJetColor Pro maintains the benefits of inkjet:
Full bleeds, Full Color
Industry-leading output for short-run envelopes
Lowest consumables costs, as low as 3/10s of a penny per piece
Accepts regular window envelopes
No creasing or embossing of envelopes
Easy operation and maintenance
With the added abilities and features for high volume print shops:
Vacuum feed system for high volume input
High capacity hopper
Print driver designed specifically for high volume short-run and batch workflow
Easily prints coin, remit, catalogue, stationery, and business envelopes as small as 2" x 3 ½" up to 12" x 17"
Feeds substrates up to 1" thick for unique application usage
The iJetColor Pro is designed and built by our in-house technical team—each member boasting thirty-some years in the industry, creating, building, and supporting the advancements in print technology.
For the printer who can't print short-run, full-color work fast or cheap enough, we designed this for you.
For more information:
See Print Samples | Download Product Specs | Request a Quote
Calculate Your ROI | Contact a Rep