Printware, LLC is a small company that has a big impact on the customers they serve. This group of individuals has a narrow focus and helps a wide range of businesses, communities, and individuals communicate.
Meet the team that's behind iJetColor.
Meet the iJetColor Sales Team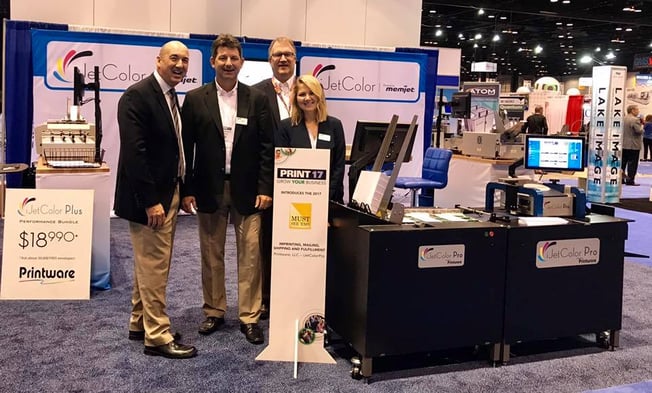 While their time with the company ranges from decades to years and months, one thing remains consistent: their passion for and belief in Printware, LLC's products, services, and support.
Tim Murphy, President
With nearly three decades of experience watching customers convert from traditional printing methods to digital ones, I have seen countless customers make changes to better serve their customers. We help our customers print more efficiently, more quickly, and more profitably, and we have a lot of fun doing it.
Bill Frederick, Director of Sales
In his 10+ years with Printware, Bill has played a huge role in helping businesses make the transition from analog or offset printing to digital. He enjoys hearing positive feedback from customers about how taking the letterhead area of their business digital has increased profitability. And when those customers turn around and refer other businesses, it's even better, yet.
When I asked Bill to share a little snapshot of his time with our company, he brought up not only the equipment we sell, but the fantastic support team that takes care of customers post-sale, "Knowing every customer is taken care of, that all pieces of the solution are profitable, it's very satisfying."
Chuck Dusek, Channel Sales Manager
Prior to joining our team, Chuck was working within the printing industry and heard about our product and our company. When he got a closer look at the iJetColor and saw its capabilities up close, he knew it was something he wanted to be a part of.
"In my years with this company, my enthusiasm for our products has only grown. I regularly present on and demonstrate our iJetColor envelope printers to prospective customers, which lets me see their excitement first-hand."
Claire Leiter, Business Development Inkjet Specialist
Claire, the newest member of our team, joined us in early 2017. While it's sort of rare to find members of the younger generation in this industry, she dove right in. She assists with prospecting, direct sales, demos, and support. With a hand in nearly every inch of this business, Claire continues to impress us with her capabilities.
"It was pretty clear that this was a great company that stood behind their products and provided products that really change things for their customers. These products allow businesses to do what they do better, faster, and more profitably. When I saw the product and how they support it, I wanted to be a part of it."


We're a small team, but as Bill said, "Everybody works together just beautifully to make sure every iJetColor customer is trained and profitable." It certainly pays off for our customers. Hear how our product and services benefit our customers.