Print industry experts at What They Think recently conducted their 2018/2019 print industry Annual Business Outlook Survey and found that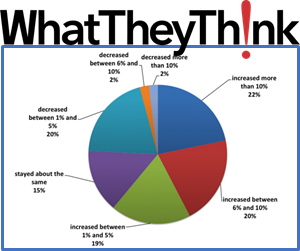 business in 2018 was perceived as pretty good overall and will be even better in 2019 – check out the Printing Outlook 2019 special report.
But one of the hidden gems that you may already know about – and certainly our inkjet customers understand - is how traditional print volumes don't directly relate to profits like they did in the past.
Why? There is an unmistakable trend and transition to shorter-run work which either will cause problems or become an opportunity to improve the "3Ps" of printing: Productivity, Pricing, and Profitability.
Our experience providing inkjet solutions to the print industry for the past seven years can help you understand how these 3P's can better fit together in your print operation. Successful printers are adept at serving this growing short-run work with smart technology, the right positioning, and increased profits. Inkjet is a great way to do what offset and digital printing just can't do to meet this customer need.
Productivity
The most common cause for printers to investigate inkjet starts with two obvious yet related problems. First, there is just no fast way to produce in full color quickly on offset. Secondly, lots of short-run envelopes on a digital device can clog up all the other work needing to go out. Thus, inkjet satisfies two goals at once: no makeready and more productive use of all digital equipment.
Pricing
The shift to shorter runs and the very low variable costs of inkjet provide the next opportunity to creatively grow your business with pricing. Typically, our customers abandon the cost-plus model and move to a value based (super-fast turnaround of short runs) model that is more profitable than the balance of their work. Plus, they grow their business by offering new price points for customers that are looking for lower quantities overnight (think FEDEX).
Profit
From very large print manufacturing to storefront franchises, customers that offer super-fast, short-run, full-color inkjet technology also find a robust and growing bottom line. It's not uncommon for customers to say that their inkjet envelope press is singularly the most profitable machine in their shop. They only ask that we don't tell anyone else (oops)!